Winners | Biography | Logline | Synopsis | Script Excerpt
The Last Bookstore
GRAND PRIZE WINNERS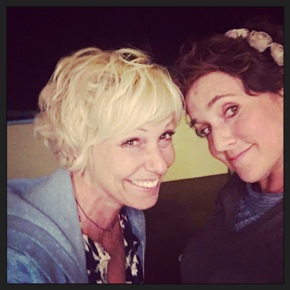 Colette Freedman and Brooke Purdy
of Burbank, CA
The Last Bookstore
Sci-Fi, Fantasy
Brooke Purdy
BROOKE PURDY has written and directed for companies including Def Comedy Jam and Def Pictures, HBO and Showtime. An NYU film school graduate, Brooke has several produced shorts including her award winning 'Against the Wind' which won a lot of festivals but didn't manage to put a dent in her student loans. After moving to Los Angeles, she worked as a copywriter in radio for fifteen years spearheading campaigns like Pepsi, AT & T, KFC, and Campbe's Soup. She has optioned several screenplays which allowed her to buy a house in Burbank where, to keep the budget in check, a great deal of Quality Problems, which she wrote and directed, was shot. A successful playwright, Brooke's plays Blitzkrieg and Plunge both had sell out runs in Los Angeles. Brooke wrote a television pilot for Jamie Kennedy and sold it to Universal T.V. She used the money on gum and hair products. She also won €Hollywood's Next Success Screenwriting Contest€¯ with a Gilmore Girls spec she wrote. She still has the mug. In her almost nonexistent spare time, she has taught swing dancing, boot camp, driven in a demolition derby, married her best friend Doug and had two kids Max, 13 and Scout, 9 whom she loves even more than cheese and Toasted Almond Good Humor Bars. One day she hopes to sleep until 10:30a.m.
Website: www.qualityproblemsfilm.com

Colette Freedman
COLETTE FREEDMAN- An internationally produced playwright with over 25 produced plays, Colette was voted 'One of 50 to Watch'¯ by The Dramatist's Guild. Her play Sister Cities was the hit of the 2008 Edinburgh Fringe and earned five star reviews: It has been produced around the country and internationally, fifteen times including Paris (Une Ville, Une Soeur), Rome (Le Quattro Sorelle) and Australia. She also wrote the novel and the film which stars Jacki Weaver, Alfred Molina, Jess Weixler, Stana Katic, Michelle Trachtenberg, Amy Smart, Troian Bellisario, Tom Everett Scott and Kathy Baker. Her hit musical Serial Killer Barbie played to sold out crowds for six months in Los Angeles and New Zealand. She has co-written, with International bestselling novelist Jackie Collins, the play Jackie Collins Hollywood Lies, which is gearing up for a National Tour. In collaboration with The New York Times best selling author Michael Scott, she wrote the thriller The Thirteen Hallows (Tor/Macmillan). Her novel The Affair (Kensington) came out January 29, 2013. The play of the novel earned both critical and commercial success as it toured Italy February through May 2013. Her sequel novel The Consequences (Kensington) came out January 28, 2014. Her YA novel Anomalies (Select Books) came out February 9, 2016. She also co-wrote the film "And Then There Was Eve" which just WON THE JURY PRIZE at its world premiere at LA Film Festival (June 18, 2017).
Website: www.colettefreedman.com

When the technological age has brought humanity to its brink, it is, ultimately five kids, their love and a book that can save mankind.
I knew I wanted to be screenwriter...
Brooke Purdy: I have been writing since middle school. Books and writing were my favorite escapes. I had amazing teachers and encouragement along the way. I entered NYU Tisch in their dramatic writing program in 1989. There, I began with stories and plays. I studied with Dick Beebe there and he was remarkably cinematic. He first encouraged me to expand my work into screenplays. I never looked back and transferred to the Film & Television Directing Program there the next year. Later, when marriage, kids and life had me somewhat creatively "stalled," I went to Kristen Hanngi who helped get me "unstuck".
Colette Freedman: When I was a little kid and wrote commercials for my brother and cousins to star in and made my parents laugh.
I know I've succeeded...
Brooke Purdy: When I moved someone with my writing. Once I got that first "Oh!" or first laugh out loud, that- "I loved this or that"... I was hooked. It was the impetus to keep going- knowing that I could spin a story that would move someone else.
Colette Freedman: In fifth grade I wrote the school play "An Archie Bunker Thanksgiving" and as soon as I got my first laugh from a stranger, I was hooked.
My inspiration to write "The Last Bookstore"...
Brooke Purdy: My 12 year old son Max, an avid reader, asked me to write a movie for him. Something that he would want to see. He has pretty sophisticated tastes but is also in this odd "tween" grouping where movies for his demographic are either too gory or too young. He was my constant reference throughout the writing.
Colette Freedman: Brooke. Books. Dystopian stories. Brooke.


Interview Part 2.
FilmMakers Magazine: What inspired you to write?
Brooke Purdy: As I said reading and writing stories were my first "escapes". Since then it has always been about the autonomy of writing- it was something I could do independently of anyone's "permission". The stories move me and the characters within compelling me to see it through.
Colette Freedman: I'm a big believer in doing what you love to do. I love to write. I love words and stories and the fact that everyone has such a specific and unique voice. I love acting and that writing allows me the creativity and freedom to act out" different stories.

FilmMakers Magazine: Is this your first script and how long did it take you to complete?
Brooke Purdy: God no. Have many. Some of which will NEVER see the light of day. "Believe in the power of a crappy 1st draft".
Colette Freedman: No.
FilmMakers Magazine: What did you do to prepare yourself to write your first script?
Brooke Purdy: I didn't really prepare- I just dove in at the behest of some great mentors. When I wrote a story and had someone say "This would make a great screenplay"- I just dove in.
Colette Freedman: I started as a playwright and it was a natural transition. So I just dove in.
FilmMakers Magazine: Do you have a set routine, place and time management for writing?
Brooke Purdy: No. For me it's just being able to "roll" with it. Now that I am a parent, working mom and business owner- it is sometimes in fits of 30 minute blasts between pick ups and after school activities. You find a way to fit it in.
Colette Freedman: No. We write when we can work our schedules to get together.
FilmMakers Magazine: Do you believe screenplay contests are important for aspiring screenwriters and why?
Brooke Purdy & Colette Freedman: YES. It's a great gauge to see if your story has the basics to inspire/move others. Beyond that I love the notes you get from professionals, the exposure you wouldn't otherwise get and the boost ALL writers need that their vision touches others.

FilmMakers Magazine: What influenced you to enter the Filmmakers International Screenwriting Awards?
Brooke Purdy & Colette Freedman: Their track record and connection to outside industry. They have been doing this for quite a while- so we knew if we could get their attention- we were on to something.
FilmMakers Magazine: What script would you urge aspiring writers to read and why?
Brooke Purdy & Colette Freedman: There are the classics like : Robert Towne's "Chinatown" and Paul Schrader's "Taxi Driver" but mostly read something that has been successful in a similar genre to your script. The main thing is, read scripts. You can learn a lot about your own style and substance by reading other screenwriters.

FilmMakers Magazine: Beside screenwriting what are you passionate about and why?
Brooke Purdy: My family, husband, kids and our home, directing, acting, producing, creating stories that MOVE people. Raising KIND people. Promoting and fighting for equality and volunteering on whatever level I can. Oh, and cheese.
Colette Freedman: My friends and family, cycling, acting, traveling, exploring/trying/seeing/doing something for the first time. I also really love cheese.

FilmMakers Magazine: Who is your favorite Screenwriter and Why?
Brooke Purdy: I have so many but some of my favorites: Tarantino- for his insane dialogue. Callie Khouri- for making "Thelma & Louise" which will remain one of the greatest feminist scripts ever. Lately- I am loving John Carney for all his scripts but especially "Begin Again" and "Sing Street" - simply sublime scripts.
Colette Freedman: Too many to count. I love Michael Arndt for his heart, Paul Feig for his humor, Aaron Sorkin for his genius, John Carney for his humanity, Simon Beaufoy for his storytelling and Jennifer Lee because she is truly gifted, "although Shane Black's Kiss, Kiss, Bang, Bang is still one of my favorite all time scripts."
FilmMakers Magazine: Name the director you would love to work with and why?
Brooke Purdy: Niki Caro, Cat Candler, Patti Jenkins, Jon Favreau, Martin Scorcese
Colette Freedman: Patti Jenkins, Nicole Holofcener, Niki Caro, Taika Waititi, Paul Feig, John Carney, Lasse Hallstrm
FilmMakers Magazine: Name the actor you would love to work with and why?
Brooke Purdy: (Besides my husband, Doug Purdy?) Gary Oldman, Gal Gadot, Sam Rockwell, Cate Blanchett, Jenifer Lawrence, Ben Kingsley, Patricia Clarkson, Helen Mirren (AND all of Colette's below!)
Colette Freedman: Melissa McCarthy, Tina Fey, Judi Dench, Cate Blanchett, Megan Mullally, Will Ferrell, Steve Carell, Kathy Bates, Kristen Wiig and Jillian Bell because they are all comic geniuses who bring heart and humor to every role they play.

FilmMakers Magazine: Any tips and things learned along the way to pass on to others?
Brooke Purdy: WRITE WHAT YOU KNOW. Make sure your dialogue sounds like REAL PEOPLE talk. If it sounds stilted when you read it- it's false.
Colette Freedman: Read a lot. Invest in a good chair. Get outside your comfort zone - inspiration often comes from the unlikeliest of places.

FilmMakers Magazine: What's next for you?
Brooke Purdy & Colette Freedman: We are currently on the festival circuit with our film "Quality Problems" a comedy about cancer which Brooke wrote and co-directed with her husband and Colette co-produced. Once we get distribution for that we will be writing a script we are going to shoot in San Antonio next year. Meanwhile, we are finishing the YA BOOK of "The Last Bookstore". We just want to keep going and creating great stories.
FilmMakers Magazine: Where do you see yourself in five years from now?
Brooke Purdy & Colette Freedman: Working on the post production for film two of our "The Last Bookstore" trilogy.
Copyright © 1999-2017 by FilmMakers.com All rights reserved.
FilmMakers.com is a division of Media Pro Tech Inc.